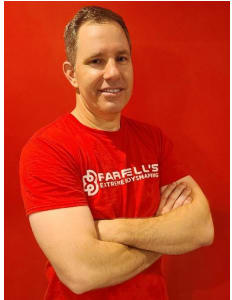 Matt Meaney
Matt started the Farrell's program before he even knew who we were! Matt's wife enrolled him in classes before he even arrived to Texas from Kentucky. Matt quickly took to the program and won the Winter '21 10 Week Challenge! He then started Instructing strength training and then moved on to kickboxing. You can expect laser focused workouts and an extra burn. Matt enjoys working on form in both strength and kickboxing classes. You're going to leave his class with a good burn and a little bit more knowledge each time you take his class! Matt is also a Coach which means he helps members in the 10 Week Challenge with any questions they have, particularly in nutrition and accountability. He loves helping guide people to better health and fitness.
Matt first got in to fitness at age 13, lifting weights with his brothers and friends in their family's New York garage, two hours a day, 6 days a week. Those early days helped build confidence and solidify what would become a lifelong desire and determination to lead a clean and healthy lifestyle. Matt strongly be3lieves that taking a long-term view on fitness and nutrition goals and putting in consistent effort over time creates results that last.
Favorite Combo: Jab, Cross, Hook, Hook
Favorite Strength Training: Squats, Deadlifts, Push-ups
Favorite Quote: You cannot rely on motivation to achieve your goals because it's fickle. You must count on and maintain discipline.
Fun Fact: Matt is the fifth of 13 children. (7 boys/6 girls)